Rogaining found its way to the NT in 1999 (about a quarter of a century after the sport's invention in Victoria), courtesy of the energetic Andy Black and David Palmer who organised the first NT rogaine, the Croc and Rock, at Litchfield National Park in August of that year.
With their rogaining experience from southern states, Andy and David spent much of early 1999 battling Wet season humidity, flooded creeks, thick high grass and the almost totally unroaded bush of Litchfield National Park to set the course for what turned out to be an historic (and for many competitors very tough) 24 hour event.
The 80-odd participants, including a large contingent of interstate visitors, hailed the Croc and Rock (the first NT Rogaining Championships) as one of the best organised and most memorable events they had experienced.
Not satisfied with setting the course and coordinating a team of volunteers to help run the event, Andy and David also incorporated the Northern Territory Rogaining Association (affiliated with the Australian Rogaining Association), thereby setting the foundations for the sport's future in the Territory.
Since that first event, rogaining has been consolidated in the Territory with an average of three events held each year, including a Wet Season metrogaine held in or around Darwin.
The challenges of the Top End's climate (heat and, in the Wet, tropical downpours and humidity) and terrain (very rocky, few roads and the occasional crocodile) seem merely to have stimulated rogaining's adherents to greater efforts in organization and competing.
The aim of the NTRA is to continue to run events of a technically high standard and to raise the profile of rogaining in the Territory by building on existing good relationships with other sporting and community organizations, and businesses.
The progress to date (as well as future success) has relied heavily on the substantial time and effort contributed by Management Committee members and the Association's many other volunteers in organising events, administering the Association and making and acquiring the necessary equipment.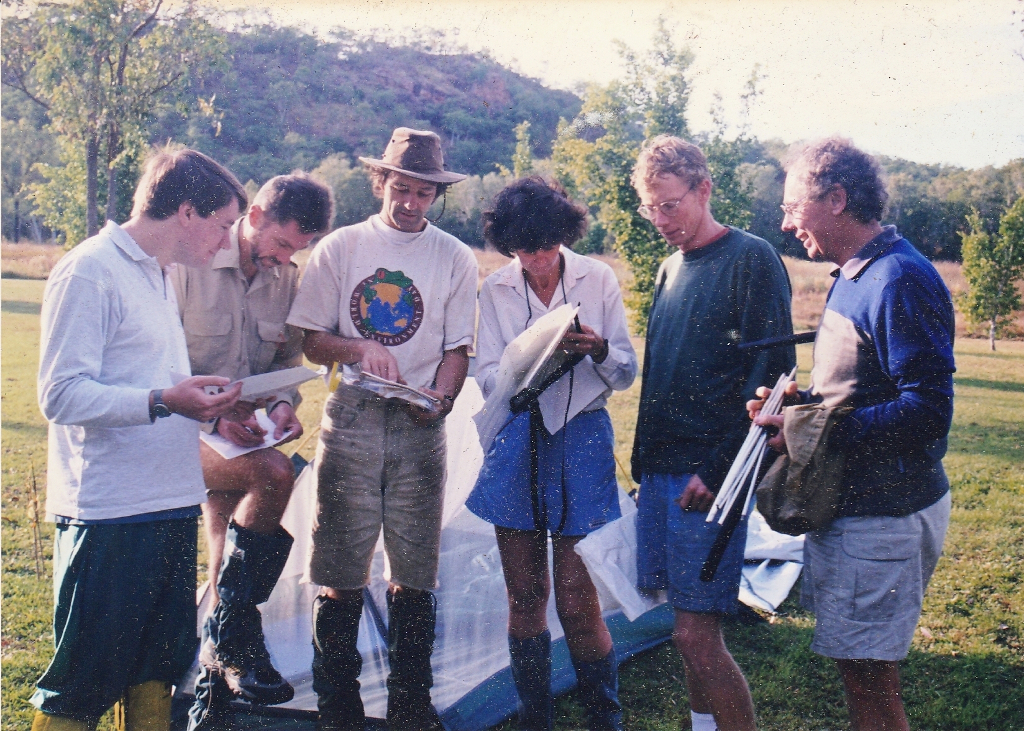 The very first committee, taken at Hayes Creek.
L to R: Tony Galliford (Committee), John Ulrichsen (President), David Palmer (Co-founder & Committee), Annie Whybourne (Treasurer and Vice President), Andy Black (Co-founder & Committee), Andy's dad (keen rogainer)