Time to get your TINSEL IN A TANGLE at the NT Rogaining Association's annual "Team Challenge" Christmas Bush Rogaine!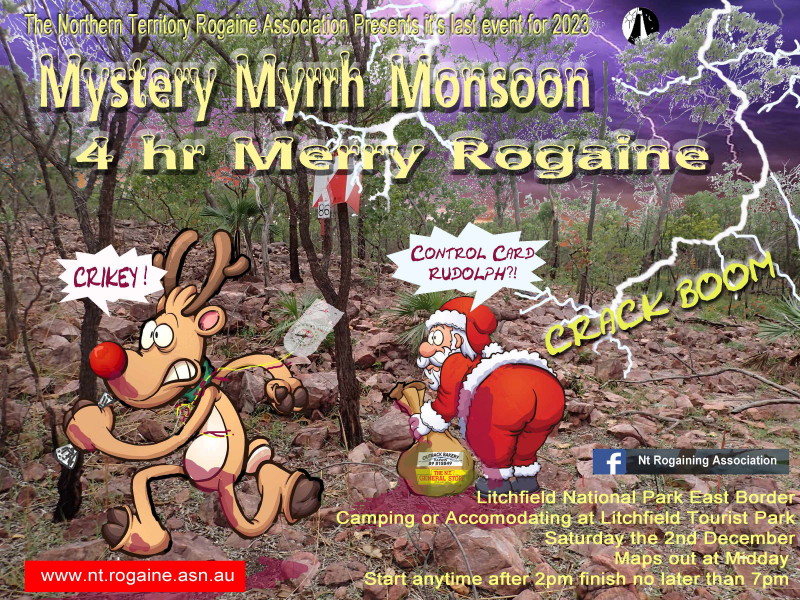 This is a fun 4 HOUR rogaine with a view to providing training and mentoring in navigation and map reading in bushland near the eastern border of Litchfield National Park. Those who are experienced and have good navigational skills will be partnered up with others seeking to improve their rogaining skills. Current skill level and enthusiasm will be taken into account when matching people up. (You will indicate your skill level on the Entry Form, which is attached below).
What: 4 hour "Mystery Team Challenge" Christmas Bush Rogaine.
When: Sat 2nd December 2023 – maps available at 12:00pm, rogaine starts from 2:00pm.
Home Base: Litchfield Tourist Park (via Batchelor, Litchfield Park Road, Rum Jungle)
Rogaine Location: Litchfield National Park (eastern border of Park).
Cost: Adults $35pp, youth 13-17yrs $20pp, children under 13 free.
MORE INFORMATION:
There are LIMITED SPOTS available for this event. ENTRIES CLOSE at 11pm on Tuesday 28th November (or earlier if all spots are filled).
The ENTRY FEE includes entry to the event, map, insurance, dinner and breakfast the next day. To secure your spot, ENTRY FEE MUST BE PAID IN FULL USING EFT prior to 11pm on Tuesday 28th November.
The home base for this event is at Litchfield Tourist Park, which is about 14km west of Batchelor towards the Litchfield National Park boundary (on Litchfield Park Road). Participants can organise overnight CAMPING or ACCOMMODATION (at their own cost) by visiting the Litchfield Tourist Park website at www.litchfieldtouristpark.com.au or phoning 8976 0070. Dinner after the event on Saturday evening and breakfast on Sunday morning will be served by NTRA in the Group Shed at Litchfield Tourist Park.
If taking part in SECRET SANTA SWAP & STEAL, please bring along a gift (maximum spend is $25). Please consider the environment when purchasing a gift and wrapping it.
Bacon and eggs for BREAKFAST. Tea and coffee included.
To take part in this year's NTRA MYSTERY TEAM CHALLENGE & CHRISTMAS FESTIVITIES, please complete the attached entry form. ONE FORM PER PERSON please. Children under 13 years can be included on the same form as their supervising adult. Please indicate your navigational prowess using the scale provided on the form. Please circle Y or N for the questions about dinner and breakfast - this is essential for assisting us in determining numbers for catering. Please also make sure that you read and sign the indemnity at the bottom of the form.
Completed entry forms should be returned to:
This email address is being protected from spambots. You need JavaScript enabled to view it.
CONTACT US:
Web - www.nt.rogaine.asn.au
Email - This email address is being protected from spambots. You need JavaScript enabled to view it.
Facebook - https://www.facebook.com/profile.php?id=100090813610687 NEW PAGE! PLEASE FOLLOW US!
Phone - 0434 854 020
NTRA – PROUDLY SPONSORED BY: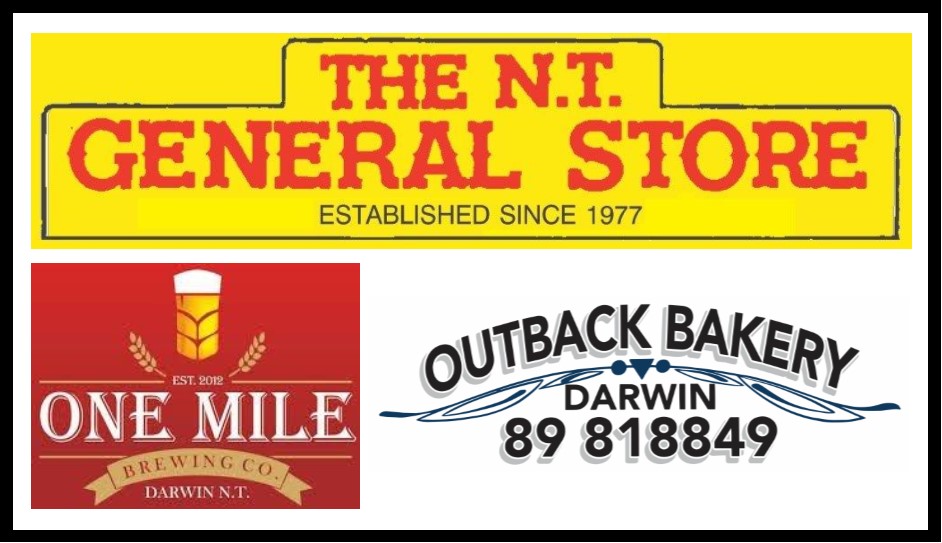 DISCLAIMER:
Rogaining is an activity that can involve risk of personal injury or property damage. By participating in the activity, each participant acknowledges that the sport of rogaining involves considerable risk and agrees that in entering this rogaine they do so at their own risk.